Diabetes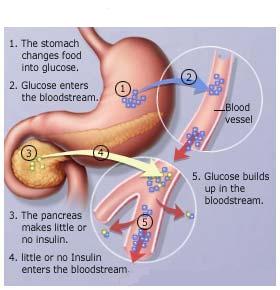 Diabetes & Nutrition
Blood sugar out of control?
There are more than 9 million Canadians currently living with diabetes or pre-diabetes.  This chronic disease affects 1 in 8 people and is a serious disease that can lead to the following conditions:
Heart disease
Kidney disease
Eye disease
Problems with erection (impotence)
Nerve damage
Research suggests that diet plays a significant role in the treatment and management of this disease.
Working with a Nutritionist will give help you to learn;
how foods affect blood sugar
herbs and spices that lower blood sugar
supplements and their affect on blood sugar
the benefit of meal combining
My philosophy is that we should eat like our Grandmother's did.  We should eat fresh, whole, unprocessed foods.  Foods that have been minimally processed and haven't been contaminated with chemicals and unnatural preservatives.
Tips for Healthy Blood Sugar
Slow-release carbs help keep blood sugar levels even because they are digested more slowly, which prevents your body from producing too much insulin.
Tips for a Diabetes-friendly diet
Eat sweets with a meal rather than as a stand-alone snack.
When eaten on their own, sweets and desserts cause your blood sugar to spike. But if you eat them along with other healthy foods as part of your      meal, your blood sugar won't rise as rapidly.
Reduce the amount of sugar in recipes by ¼ to ⅓.   If a recipe calls for 1 cup of sugar, for example, use ⅔ or ¾ cup instead. You can also boost sweetness with cinnamon, nutmeg, or vanilla extract.
Find healthy ways to satisfy your sweet tooth.  Instead of ice cream, blend up frozen bananas for a creamy, frozen treat.  Or enjoy a small chunk of dark chocolate, rather than your usual milk chocolate bar.
Healthy Fats
Fats can be either helpful or harmful in your diet. People with diabetes are at higher risk for heart disease, so it is even more important to be smart about fats. Some fats are unhealthy and others have enormous health benefits. But all fats are high in calories, so you should always watch your portion sizes.
Diabetes Nutrition Tips:
Don't skip breakfast.
Start your day off with a good breakfast. Eating breakfast every day will help you have energy as well as steady blood sugar level
Eat regular small meals—up to 6 per day.
People tend to eat larger portions when they are overly hungry, so eating regularly will help you keep your portions in check.
Sign up for our mailing list.

Like Us on Facebook!

Follow My LinkedIn Company Profile